Green chemistry is all about helping those passionate about chemistry continue to satisfy their scientific curiosity with lab experimentation while also reasonably limiting environmental harm. The goal of green chemistry at Truman ACS is to provide friendly tips and fun games that keep efficient processes in the front of our chemists' minds while not being in-your-face or condescending (no reverse evaporation here:)
Our goals for the semester include increasing recycling opportunities, reducing waste in General Chemistry labs, and promoting environmental awareness as it pertains to the lives of students. This will be achieved through collection of recyclable materials, games, activities, and more.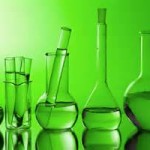 If you have any questions or need more information, please contact our Green Chemistry Officer, Chris Steger at cjs6745@truman.edu.